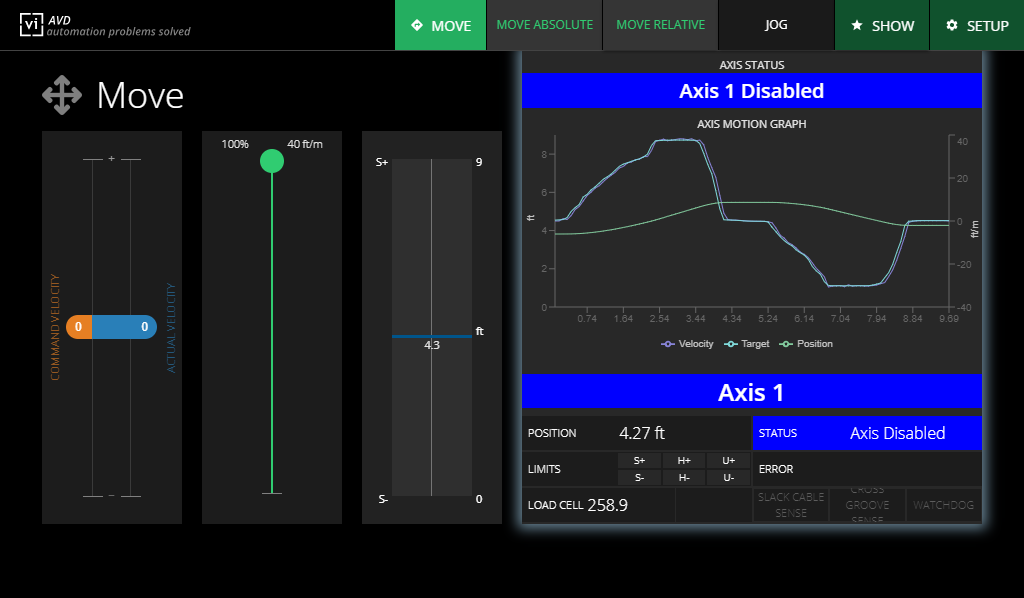 AVD:
Simple intuitive UI bolstered by a configurable backend, powerful enough to operate any axis.
Based around premium hardware:
-Beckhoff
-Nidec
-ABB
Parallel TwinSAFE safety system
Discrete I/O required to start all movement
Flexible I/O mapping including but not limited to:
-limit switches
-loadcell
-cross groove
-slackline
-remote enable
-redundant encoders
Case Review: AVD
When we decided to open Verendus Industries in the fall of 2016 we thought long and hard on how our market would look.  We didn't intend to "take the industry by storm" we wanted to use our experience making automation equipment to fill some observed gaps. Our model was to provide premium equipment in a cost-effective way, rather it be through direct sales or as "white label" product designed to meet another company's specifications.  Through the "white label" model, this allows others to bid projects that they may have otherwise missed due to a lack of in-house capability.  Frequently, there is a single part of a project that involves complicated automation that may not make sense for another to create internally, but is still a requirement to win a project, which is where we can help.
On a whole this has been a functional approach for us, however, we have found we are missing projects that otherwise fit our model because we didn't have our own stand-alone software solution. This brought us to the question: if we invest in software what must it do? The answer is: our software, AVD must serve our clients that do not have their own software, it must be powerful enough to run any automation hardware we can design and it must have an intuitive interface that allows competent technicians to use our software without excessive complexity being a distraction from the safe operation of the system.  It must also allow for easy setup of axis parameters and I/O as well as providing a quick and effective way for performing precise motion from a cueable interface.  All of this has been achieved with AVD and then some.
In its current form, AVD greets the user with an attractive user interface that allows them to perform all aspects of setup and control of an automated axis.  First, our axis setup tools allow for nearly infinite flexibility in network and I/O configuration which makes the system adaptable to almost any scenario.  Next our intuitive move commands allow for easy point to point motion as well as analog jogging of your axis with an easy to read motion graph to quick troubleshooting.  Finally, AVD has a powerful cueing interface which can store multiple shows, each with the ability to playback countless cues ranging from simple trapezoidal moves to pre-recorded jog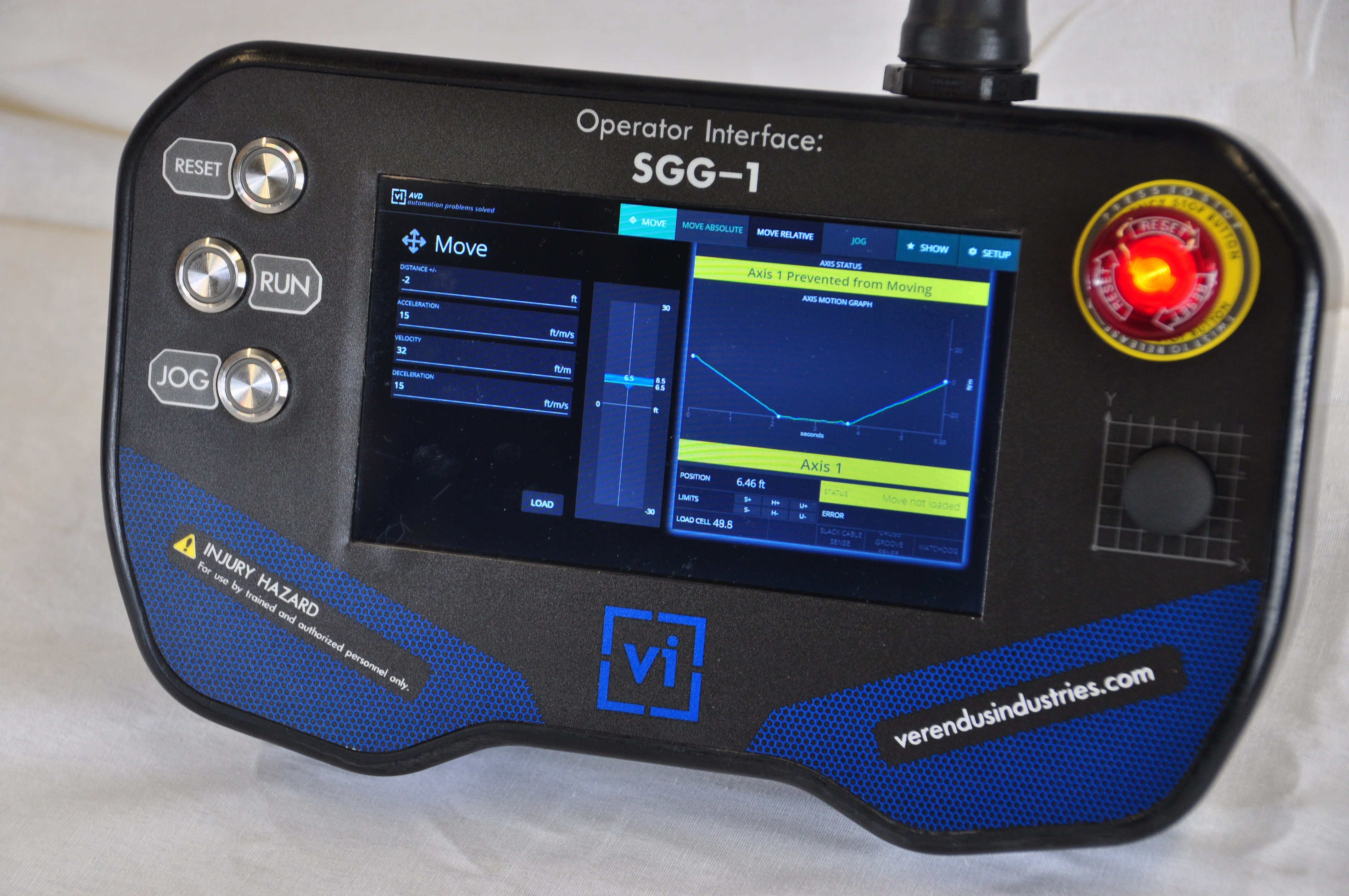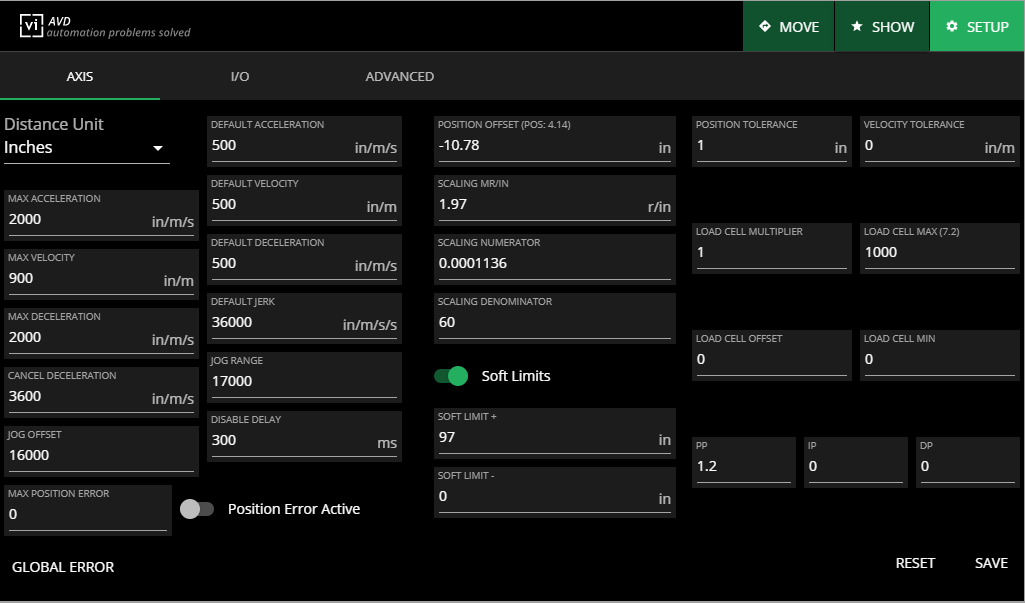 profiles.  The cueing interface also allows for triggering or responding to any I/O point on the network with easy to read feedback.  All of this combined with AVD's robust control hardware makes for a safe, reliable and easy to operate automation systemPlease feel free to contact us with any questions on how we can make AVD work for you.
As our development continues, we are very excited about this product and think it will help us better serve our customers. (Single axis system available now, Multi axis available Q-3/4 2019)