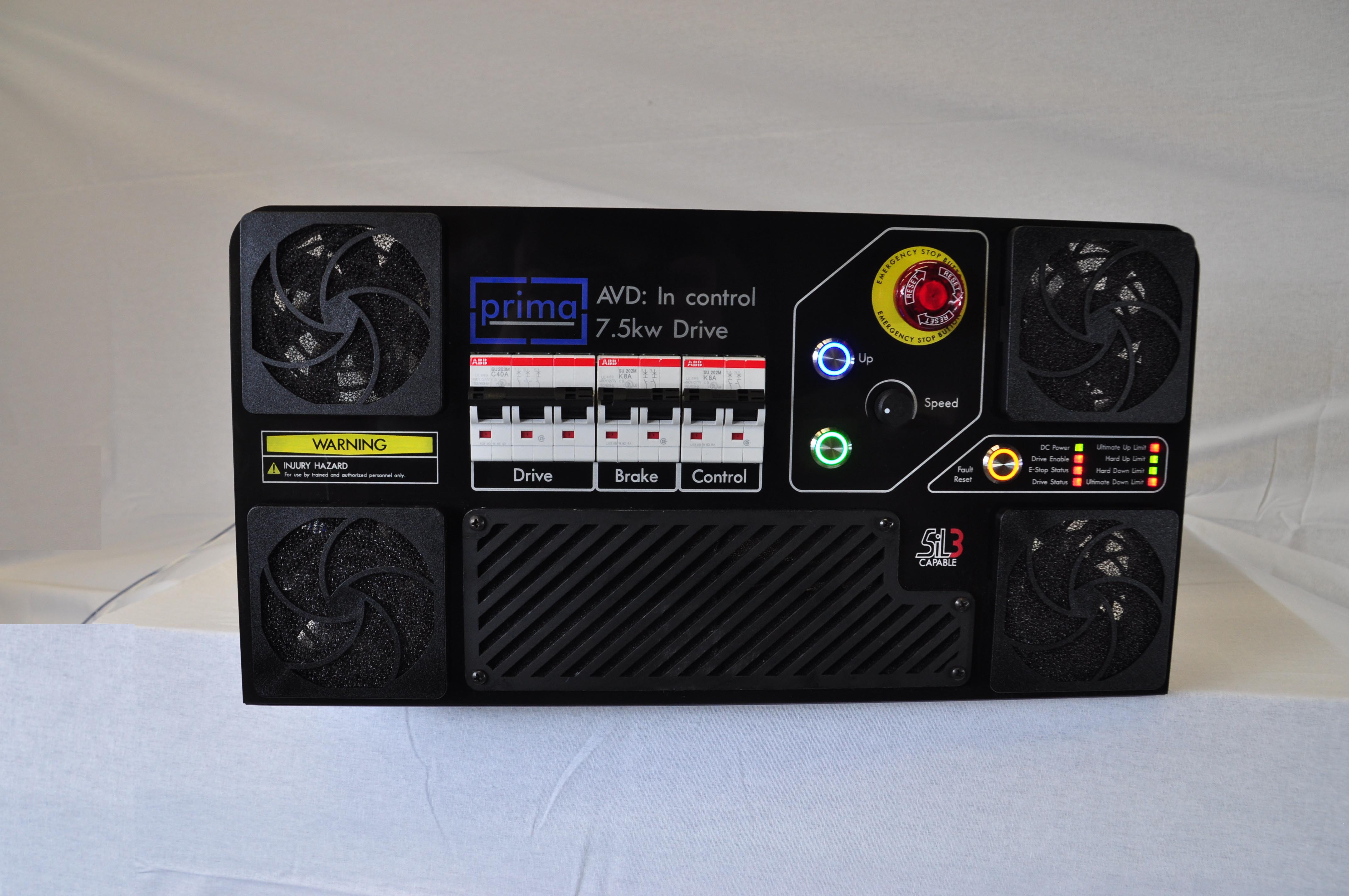 prima drive:
– 3 Hp 3-U rack mount
– 5 Hp 4-U rack mount
– 10 Hp 5-U rack mount
– Other sizes and configurations available
– Nidec M-702 Drive
– Motion control over EtherCAT
– Safety over EtherCat
– Verendus AVD controlled (Other options available)
– Local variable speed jog controls
– Rack or truss mountable
– UL 508A listed
– Sil3 capable safety system
One of the most common products we are asked to provide at Verendus is a rack mounted drive. We can design a custom drive to meet any common need but generally speaking these are jobs where lead-time is at a premium, so the feature set is limited or very specific.  While, we can build a very capable and custom drive enclosure in a short lead-time, the design is often limited by the clients control capabilities, short lead parts availability or design time.
By contrast, the prima drive is the drive we wanted to build. We controlled the interface (local variable speed jog and common I/O feedback on the front panel) we controlled the enclosure (custom Sheetmetal the can be easily mounted in a rack or on a truss). We control the construction techniques (which has led us to some really special internals [that we don't want everyone on the internet to know]) but in the end we have a drive product that is simply the best in class drive made by anyone.
The prima drive is a culmination of nearly 30 years of combined drive experiences with considerations made for durability, ease of mounting and cabling, simple commissioning as well as ultimate flexibility and capability.  For durability, we examined all the common points of failure ranging from the enclosure which is manufactured from 1/8" aluminum and 14ga steel to survive rough handling onsite, all the way down to the internal connectors which are all glued in place to prevent them shaking loose over time.  For mounting convenience, the prima's enclosure is designed to be easily rack mounted, but can also be truss mounted with convenient truss clamp attachment points.  Cabling can also become a problem onsite, so with the prima all control cables can be daisy chained between multiple drives to simplify cabling.  To aid in commissioning onsite, each drive comes with local variable speed jog controls on the front panel to allow axis setup without the complete automation system ready to go which can be a huge timesaver in a touring environment.  Finally, once the prima is up and running, the drives control capabilities are second to none with closed loop control of both ac induction and servo motors as well as the ability to handle remote EtherCat I/O at the axis or simply connecting I/O points to the connector on the back of the drive.
All in all, the prima drive allows for the creation of a powerful, reliable and easy to operate system that was designed for the entertainment industry by people who understand rigors of live productions.