T-390:
– 3 FPS, 90 pound line pull, 75 feet of travel
– Intergrated pinch rollers
– Electronic hard limits
– Physical ultimate limits
– Multiple control options
     – two button + Estop, "run to limit"
     – four button + Estop with presets
     – Touchscreen + Estop multi axis control
– On board drive
– Zero fleet-Designed for 3/16" steel core
– ABS encoder
– 3-Phase AC motor
It seems that in the winch design world, most of the attention is spent on lifting winches and rarely does a dedicated travel winch come onto the market.  There are a few problems with this model, and they are mainly size and cost.  A lift winch is frequently built to withstand the high loads and stresses from fighting gravity which tends to make them larger machines with much more costly components.  In contrast, a travel winch can move many thousands of pounds horizontally on a track with a much lower line-pull which allows these machines to be smaller and more affordable.  It is also common to want a travel winch as close to the track as possible with can also present issues from either fleet angles, or just the sheer size and weight of the machine.  In order to solve all of these problems, we created the T-390 travel winch.
The most common winch configuration is motor mounted to a right-angle gear box. This gives you a winch space profile that is roughly a square (defined by the motor at a right angle to the gearbox). This layout is space efficient when grid-mounted, since the footprint is small upstage/downstage but for stage left/stage right, there are other configurations that make better use of available space (inline gearboxes, offset gearboxes or parallel drum and motor). The thing about all of these configurations is the hollow space within the drum is unused. Automation designers have tried for years to use this space. Historically, the limitation has been the cost of the bearing needed to support one side of the drum. At Verendus, we worked with our suppliers and came up with an affordable bearing solution that allowed us to move forward with the "motor in drum" design. With the motor out of the way, we were able to focus on all the other required design aspects that make a high-quality curtain machine or travel winch.
Basically, we asked ourselves, what does a curtain machine need to do? Basically, the job of a curtain machine is to automate a bi-part or single panel curtain system which is work that is frequently handled by an operator pulling a rope. To replace this person, there are many small quality of life and performance specs to consider. We took all of these into consideration added some modern construction techniques and came up with the T-390.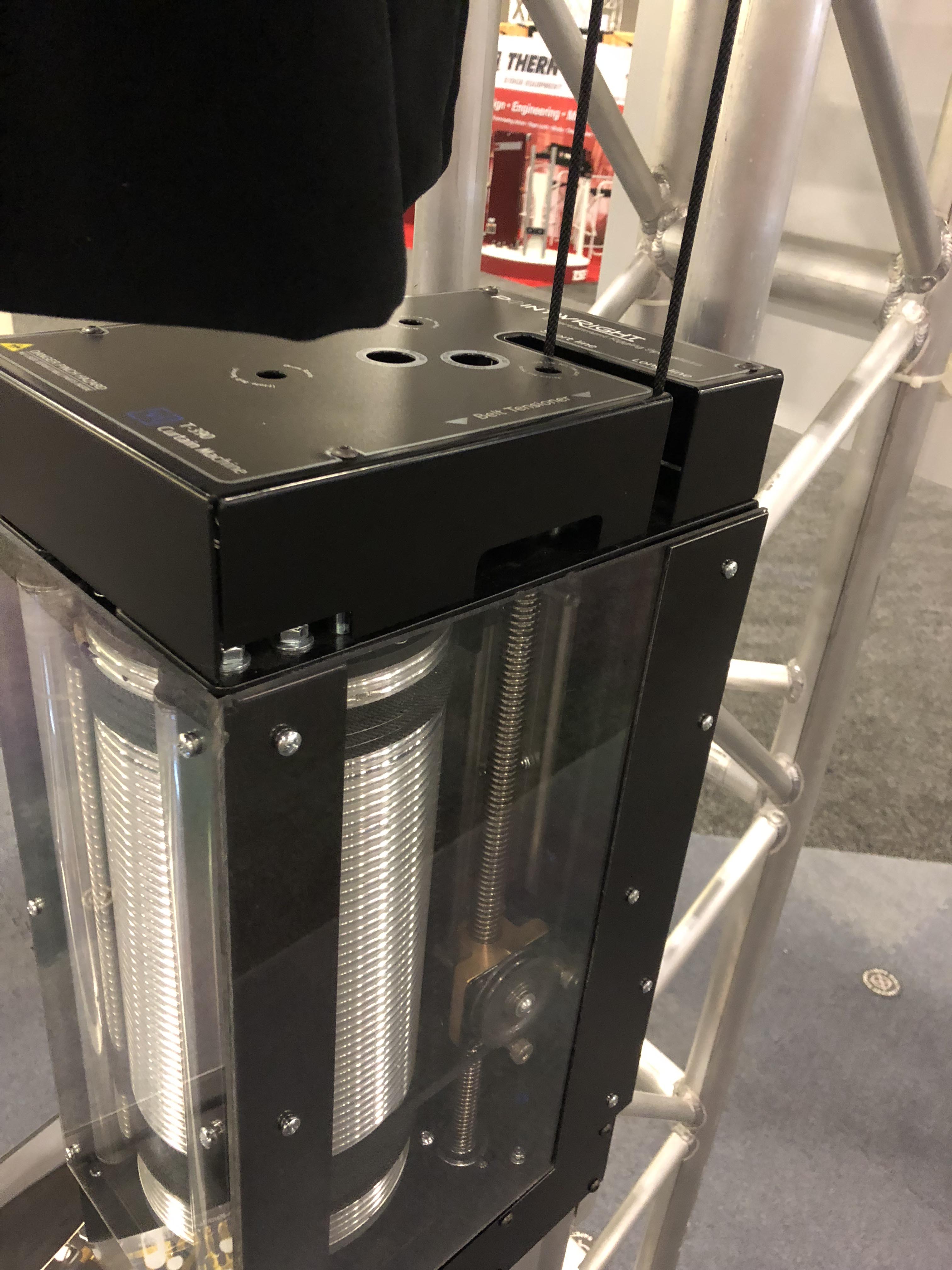 This machine is not only small but is includes a zero-fleet mechanism that allows the unit to mount directly to the track it is powering.  The drum is also a true helical drum, unlike most travel machines that use a friction drum which requires external limit switches due to slippage of the cable on the drum.  In addition to this, the t-390 houses all controls onboard including a variable speed AC drive, absolute encoder, hard and soft limits and circuit protection, all of with negates the need for the mounting of an external drive enclosure.  Even with the controls onboard, no other machine on the market with the capabilities of the T-390 even comes in size or ease of mounting.
All of this combined, makes the T-390 winch the ideal choice for many horizontally traveling needs.